Bright Beginnings Learning Center
Bright Beginnings Learning Center, or BBLC, is a Christian Mother's Day Out/Pre-School program for children 18 months through five years old. There are options for different age levels, which are offered Monday through Thursday, 9:30 am – 2:30 pm.
Our children have a variety of experiences throughout their day: Chapel time with singing and a message about God's love, playground time, learning centers, and free play.
Our staff strives to show God's love through their love, interaction, and concern for each child who has been entrusted in their care. Children in our program feel comfortable, protected, and loved. We look forward to welcoming you into our BBLC family!

For further information about BBLC, please contact Rev. Emily Bankston via email: Emily.Bankston@strawbridge-umc.org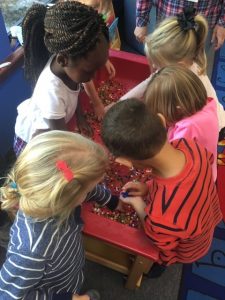 Mission Statement
Our mission is to provide creative learning experiences to stimulate our children socially, emotionally, spiritually, intellectually, and physically in a loving Christian environment.
Bright Beginnings Learning Center, BBLC, operates under the auspices of Strawbridge United Methodist Church, and we are licensed by the Texas Department of Family and Protective Services.
Registration
February 2021
Welcome to Bright Beginnings Learning Center, or "BBLC."
Registration is from Monday, February 22 to Thursday, February 25, 10:30-12:30 for both currently enrolled BBLC families and our Strawbridge U.M.C. members. For the public, registration is from Monday, March 1 to Thursday, March 4, 10:30-12:30. We will have a table set up under the SUMC porte cochere for families to pick up enrollment packets that week.
If you have questions or would like to schedule a tour, please call the BBLC office at 281-360-4500.
All paperwork will be updated on the church website by February 15. Go to www.Strawbridge-umc.org and click on Connect, then Bright Beginnings Learning Center. You may complete the forms online, print them, and bring the completed forms with you . Call BBLC when you are ready to turn in your forms.
If possible, please bring a copy of your driver's license and insurance card with you when you drop off your child's forms. (If you do not have access to a copier, we will copy them as part of the registration process.)
All documentation must be completed and in your child's folder by May 20 (last day of BBLC for this year). Well statements, vision/hearing screenings (four year olds) are due by the first day of school.
All children attending BBLC are required to be vaccinated. We must have the "Well Child Statement" and "Immunization records" by your child's first day of school. If your child is on an "Alternative Immunization Schedule," we will need to have the physician's signature and documentation of said schedule. If your child will turn 4 by September 1, we will need a report on a recent hearing and vision screening.
Classes will be based on enrollment, and determined by your child's birthday:
● 18 mo-2 years by September 1
● 3 years by September 1

● 4 years by September 1.
We are looking forward to another wonderful year of experiences with your children!
In His peace and love,
Bright Beginnings Learning Center Staff