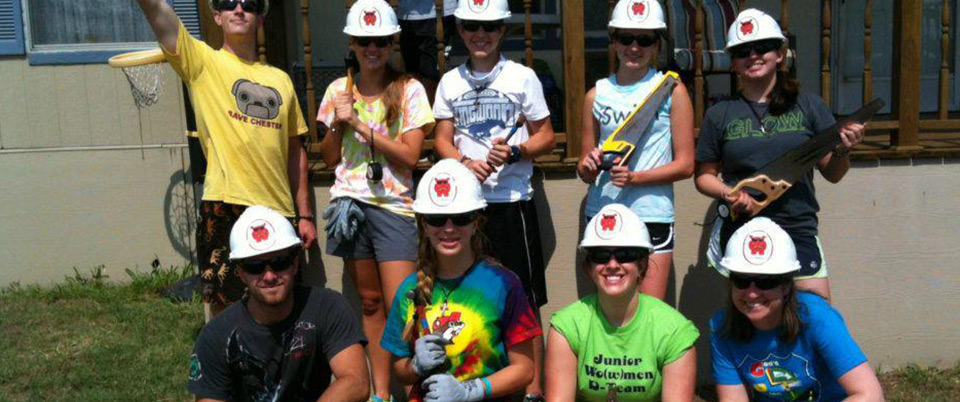 "See then how that by works a man is justified, and not by faith only." —James 2:24
The missions ministry of Strawbridge provides a wide variety of opportunities to share God's love. Opportunities are available locally, regionally, and internationally. Want to know more about mission opportunities at Strawbridge?  Contact Jeff Deerhake
Domestic Opportunities
All Youth Mission: Each summer, Strawbridge sponsors an All Youth Mission(AYM) Trip, which sends youth and adult sponsors to economically depressed parts of Texas to work on light construction projects aimed at repairing and improving low-income housing. They spend a rewarding week serving those in need and sharing the love of Jesus Christ. Questions contact Eric Pugh.
U.M. Army: The mission of U.M. Army is: "To provide Christ-centered quality youth work camps that serve people in need and promote spiritual growth and leadership development in youth." Participants—students who have completed at least one year of high school, plus their adult sponsors—combine their strengths to meet home repair and maintenance needs of those unable to help themselves. Strawbridge typically takes part in at least one U.M. Army project each summer.
Methodist Retirement Communities: For 50 years, the Texas Annual Conference of the United Methodist Church has supported the needs of senior adults through its covenant relationship with the network of nonprofit Methodist Retirement Communities and their affiliates—"serving those who cared for us." Strawbridge supports this service ministry through periodic special offerings.
Methodist Children's Home (MCH) provides services to more than 1,400 children and youth daily through residential care, foster care, and other services.  Community service outreach offices are located in 12 cities across Texas and new Mexico. MCH offers hope to children, youth, and families through a nurturing Christian community. SUMC provides financial support and has established an annual tradition of sending donated gifts cards at Christmas.
Society of St. Andrew: Strawbridge provides financial support to theSociety of St. Andrew(SoSA), whose mission is to introduce people to God's grace in Jesus Christ through meeting their "hungers".
Mission Milby: The Mission Milby Community Development Corporation (MMCDC) aims to "significantly reduce poverty in Houston's Pecan Park and surrounding East End neighborhoods by revitalizing the community while preserving its heritage and honoring its culture and character."  In collaboration with community stakeholders and other Houston-area partners (such as Strawbridge), MMCDC is working to improve residents' quality of life "so that all may experience God's grace and blessing through established and sustainable measures such as love, trust, acceptance, education, employment, safety, and health."  In addition to financial support, Strawbridge also pursues hands-on opportunities to further MMCDC's mission ministry.
College & Military Care Packages
Habitat for Humanity
Blood Drive