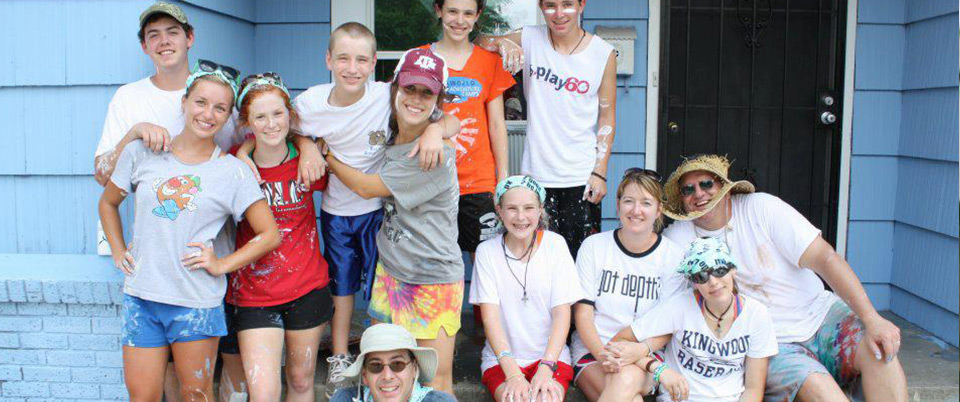 "See then how that by works a man is justified, and not by faith only." —James 2:24
The missions ministry of Strawbridge provides a wide variety of opportunities to share God's love. Opportunities are available locally, regionally, and internationally. Want to know more about mission opportunities at Strawbridge? Contact Mike Mayfield.
In Our Own Back Yard
Family Promise: Strawbridge UMC is a host church for Family Promise of Lake Houston, a local non-profit created to help homeless families bridge misfortune and regain self-sufficiency. Four times each year, Strawbridge welcomes up to three families for a one-week period, providing overnight accommodations, preparing dinner each evening, plus providing food for breakfasts and lunches. Just as important as supplying basic needs is the love, hope, and guidance which church volunteers provide to these families as they struggle to get back on their feet.
Feed My Lambs: Just beyond the boundaries of our Kingwood community, there is an opportunity to serve the poor and disadvantaged through an outreach ministry appropriately named Feed My Lambs (FML). Coordinated by The Mission Northeast and supported by area churches and civic organizations, FML volunteers prepare and deliver lunches twice weekly to residents of the White Oak Apartments in Porter. Visits are more than just delivering food — volunteers offer a blessing and take the time to check on the well-being of residents.
Humble Area Assistance Ministries (HAAM) is an interfaith ministry which temporarily satisfies the basic needs of those in financial crisis, while providing assistance toward self-sufficiency. Strawbridge, a covenant partner with HAAM, provides financial support and in-kind donations through food drives and various seasonal collections.
The Mission Northeast aims to help meet the physical, emotional, and spiritual needs of economically disadvantaged residents of East Montgomery County. Strawbridge provides financial support, as well as in-kind donations to the organization's Food Pantry and Christmas Store. Visit www.missionne.net.
The Interfaith Quilting Guild is comprised of women from diverse backgrounds who work year-round, together and individually, to create quilts and fabric products that are distributed to a host of local charitable organizations. Among these are: Family Promise of Lake Houston, Family Time Crisis & Counseling Center, and Village Learning & Achievement Center. Some of the members have also worked to supply clothing to the Sister Domingas Orphanage in Angola (Africa). For more information, contact Kathy Ryan.
Bordersville
Elm Grove Elementary Readers